To create a new reference:
1. Click the 'New Reference' button
2. Select your reference type. The default is Journal Article. There are various reference types to choose from (e.g. Book Section for book chapters, Book, Web Page, Audiovisual Material).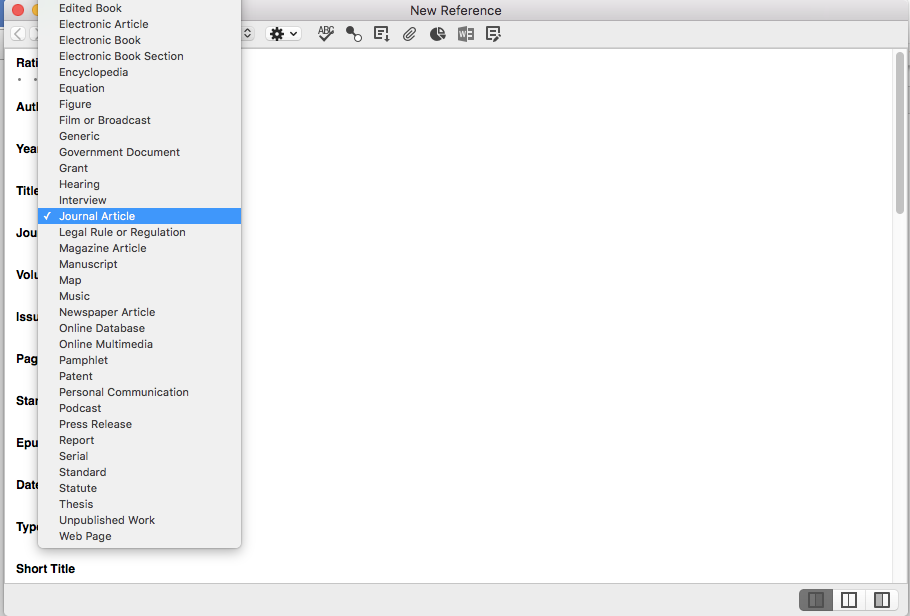 ​3. Type information into the appropriate boxes, also called fields (e.g. Author, Year, Title, Journal, Volume, Issue, Pages). A minimal amount of information only needs to be entered to suit the Output Style you are using.
4. Enter your notes about the item in the Research Notes box.
Tips for entering references:
Use capital letters in article, book and journal titles where you would expect to see them, according to style guidelines.
Abbreviate journal titles if required for the Output Style. EndNote has an advanced feature called Term Lists that can automate the abbreviation of journal titles.
Don't format text (e.g. italics or bold). EndNote formats the reference according to the Output Style selected.
Use the TAB key or mouse to move from box to box.
Once completed, close the Reference Window by clicking the X symbol for the Reference Window in the top right hand corner of the window. Follow the prompt to save your reference into your library.
Preview your reference for spelling and capitalisation using the Tab Pane at the bottom of the screen. The Tab Pane can be hidden or shown by clicking the Hide Tab Pane / Show Tab Pane option in the bottom right hand corner of the EndNote window.
The reference can be edited by double clicking the reference in the Library Window.
The default Output Style may be set to Show All Fields or Annotated. Select an Output Style from the style menu on the main toolbar. One hundred styles are available by default with EndNote. Additional styles can be added from a set of 3,700 styles. See EndNote's help system index for information under Installing Styles or download styles from EndNote.com. Styles get stored in a Styles directory in the EndNote program directory.