You can print, photocopy and scan using the Multi-Function Devices (MFDs) in any of the University of Melbourne's libraries.
Create a guest account
First, you will need to register as a guest user, and set up an account with a login and password. The login will start with "guest-"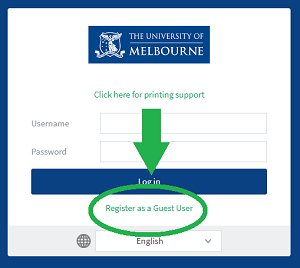 The Print Portal
Once you have set up your guest account, you can log into the Online Print Portal to:
Upload and print out documents

Add credit to your account

Check your balance

View your transaction history
You can also add credit using the kiosks located in the Eastern Resource Centre, Baillieu and Giblin Eunson libraries.
How to print
You can send documents to the printer or MFD from the library's guest computers, which do not need a University of Melbourne login.
To release your documents, log in at the printer with the guest login and password that you have set up. See the User Guide for step-by-step instructions.
How to scan or photocopy
Scanning is free!
Remember, it is your responsibility to comply with copyright regulations when photocopying.
Need help?
Visit our Student Print website for more information or ask at our service desk for help.