Organising readings into content folders
---
Readings will appear under ungrouped readings in the order in which they were added to Readings Online. You can organise your readings into folders or groups as required; e.g. by week, topic or format.
How to create subfolders
---
It is only possible to have one level of content folders. If you wish to have sub-folders, you will need to include it in the top level folder; e.g. Week 1 – Journal Articles, Week 1 – Books and Book Chapters, etc.
Step-by-step guide to organising readings into folders
---
(1) Create and name the folders
To create a new group, click on New group
Figure 1 - Create a new group of readings
Enter a name for the group and click on the tick box to submit.
Figure 2 - Naming a new Content Folder
The new group will appear under all of the ungrouped readings. Repeat for each required group.
Figure 3 - A new Content Folder for readings
To edit a group name click on the edit icon. Edit the text as required in the dialogue box and click on the tick box once complete.
To delete a group, if no longer required, click on the red bin icon.
Figure 4 - Editing the name of a content folder
---
(2) Move readings
Items that have not been sorted into any folders will sit at the top of the Reading List in the "Ungrouped readings". Please note that individual items can not be replicated within your Reading List to be moved into different weekly folders; i.e. one item per folder.
Move one reading at a time: Click on a reading, then drag and drop it in the target group.
Figure 5 - Readings grouped by week
Move multiple readings at a time: Readings can be selected in bulk using check boxes and either dragged into place or moved using the 'Move to' menu at the top.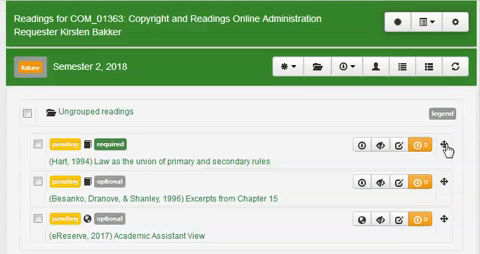 ---
(3) Review
Check the student view: Use the student view button to preview what students see of your reading list.
Use the collapse all and expand all buttons to quickly review readings in each group.